Wine-O
Hopefully everyone had a nice Independence Day celebration, in whatever way you chose to celebrate. We went to a
winery
and sampled a lot of good, fruity nectar. These three now have a place on the wine rack at home (temporarily, of course):
Horse Stomp Red
The taste and aroma of raspberries is loud and clear when it's blended with White Zinfandel. Try this with dark chocolate!
Peden White
This peach-flavored Chardonnay is a hit with the summer sippin' crowd because it's lighter (only 8% alcohol) and refreshing. The aroma is so big, you'd almost expect to find peach fuzz on the wine glass!
Bonny Black
This dark, rich, flavorful blend of black currants and Merlot makes a wonderfully full-bodied sweet wine. To the Scotch-Irish folks who first settled in this part of North Carolina, the word "bonny" means good.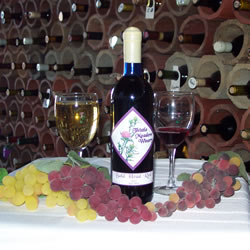 Later, after partially recovering from headaches, we took Tyler out to see fireworks. He enjoyed the excursion, but was startled by the popping and crackling in the sky. Poor little man. I tried to cover his ears, but that seemed to irritate him even more. Most of the time he just sat on his dad's lap, an intrigued, yet anxious expression upon his smooshy little face.